The 23rd Event of the Vienna Evaluation Network will take place on Thursday, September 22, 2022, 4-5.30pm CET
Topic: How monitoring and evaluation can enhance adapting within project cycles. Evidence from cases in the Western Balkans
by guest speaker Driton Zeqiri
Please register in advance for this event here
After registering, you will receive a confirmation email containing information about joining the meeting in Zoom.
---
A Monitoring and Evaluation system should be designed in such a way that it allows fast learning and adapting. Impact of any intervention can be increased if during the project we can base our decisions on reliable timely data. Learning and adapting within the project cycle is crucial in development projects because they are usually implemented under very fast changing environments.
Adaptive monitoring and evaluation is an iterative process that ensures each activity has been accurately and thoroughly monitored and evaluated, and data has been communicated to implementing staff from which evidence-based decision making can occur.
During the event we will present and discuss the main premises for having a monitoring and evaluation system within projects which allows real time learning and adapting. Real examples from Western Balkan countries will be shared and discussed. This presentation will be particularly useful to people working in managing development projects and to those holding monitoring and evaluation positions within projects.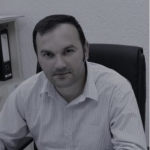 Driton Zeqiri is a monitoring and evaluation specialist, and researcher. His field of expertise covers a range of different skills, such as research design and management, data analysis, qualitative and quantitative research methods, project/program evaluation, gap analysis, impact assessment.

Mr. Zeqiri is a Ph.D. candidate in Sociology, with his study he focuses on research methods. Mr. Zeqiri's work experience includes local and international organizations, research institutions, higher education, and think tanks. Mr. Zeqiri has experience working in different countries in Western Balkans such as Kosovo, Albania, Bosnia and Herzegovina, Serbia, and North Macedonia. Mr. Zeqiri has also provided consultancy services for projects in different countries, such as the USA, Rwanda, DRC, Nigeria, South Sudan, Iraq, and Afghanistan.

WHEN: Thursday, September 22, 2022, 4-5.30pm CET
WHERE: The venue will be online. Register here.
The event starts with a presentation by the guest speaker. During the presentation, participants can pose questions and comments in the chat function. After the presentation, participants can also ask questions.
---
SAVE THE DATE for future VEN events!

The tentative second VEN Event date in the Fall is November 17, 2022.
Potential guest speakers who are interested in presenting may approach us with a short outline of the topic at viennaevaluationnetwork@gmail.com
---
PAST EVENTS
22nd VEN Event
May 12, 2022, 4-5.30pm CET
Topic: Inclusive evaluation for gender equality: Challenges and opportunities in ensuring inclusiveness in remote evaluations
by guest speakers Andrea Berg, Heike Friedhoff & Anita Leutgeb
View or download the slides (PDF) here

21st VEN Event 
January, 27, 2022, 4-5.30pm CET
Topic: Photovoice & Photo-MSC: How to measure impact through visual participatory storytelling methods
by guest speakers Karijn Kakebeeke and Nur Hidayati
View or download the slides (PDF) here

20th VEN Event
November 18, 2021, 4-5.30pm CET
Topic: Evaluation of the Istanbul Convention of the Council of Europe: Using a Qualitative Comparative Analysis in a theory based contribution analysis evaluation
by guest speaker Serani Siegel
View the video recording here
View or download the slides (PDF) here

19th VEN Event
September 28, 2021, 4-5.30pm CET
Topic: Evaluations in Times of Covid-19. Implications, Consequences and Lessons Learnt
by guest speaker Karin Kohlweg
View the video recording here
View or download the slides (PDF) here

18th VEN Event
May 20, 2021, 4-5.30pm CET
Topic: How can Knowledge Management support M&E?
by guest speakers Silvia Capezzuoli and Ruth Jolly (IMA International)
View the video recording here
View or download the slides (PDF) here
17th VEN Event
February 22, 2021, 4-5.30pm CET
Evaluation of eHealth – Methods, challenges, and recommendations
by guest speaker Christian Boehler (European Centre for Social Welfare Policy and Research)
View or download the slides (PDF) here
16th VEN Event
November 26, 2020, 4-5.30pm CET
Methodological and practical insights into the participatory development of a MEL system: A case study on tracking social outcomes in Ferrero's hazelnut value chain
by guest speaker Alice Schmidt (Global Health & Sustainability Expert)
View the video recording here
View or download the slides (PDF) here
15th VEN Event
October 1, 2020, 4-5.30pm CET
Sustaining All of our Hard Work: Plan, implement, monitor and evaluate for a sustainable exit from the start
by guest speaker Jindra Cekan/ova (valuing voices)
View the video recording here
View or download the slides (PDF): VEN_2020_Jindra_Cekan_SustainingOurHardWork
14th VEN Event
May 20, 2020, 4-5.30pm CET
Attributing development impact: lessons from action research with the Qualitative Impact Protocol
by guest speaker James Copestake (Bath University, UK)
View or download the slides (PDF): Copestake_QuIP_presentation_VEN_7May2020
13th VEN Event
February 20, 2020, 4-5.30pm CET
Meta-Evaluation: What is it, what is it good for, and how can it be done?
by guest speaker Thomas Vogel (HORIZONT3000)
View or download foto protocoll (PDF): VEN_MetaEvaluation_Vogel_FotoProtokoll
12th VEN Event
November 21, 2019 at 4-5.30pm CET
Researching children: Implications of a special population
by guest speakers Susanne Vogl (University of Vienna)
View or download the slides (PDF): Vogl Researching children_VENSlides_2019
11th VEN Event
October 3, 2019 at 4-5.30pm CET
Evaluation culture: What is needed? What is possible?
by guest speakers Katharina Warta & Klaus Schuch (fteval)
View or download the slides (PDF): Schuch&Warta_FTEVAL_VENSlides_3Oct2019 & FTEVAL_Standards_VENSlides_3Oct2019
10th VEN Event
June 17, 2019 at 4-5.30pm CET
Social impact evaluation: Measuring the social impact of alternative child care and family strengthening services
by guest speaker Rosalind Willi (SOS Children's Villages)
View or download the slides (PDF): Willi_SocialImpactEvaluation_VENSlides_17Jun2019
9th VEN Event
April 11, 2019 at 4-5.30pm CET
Mixed Methods in Evaluation
by guest speaker Kate Winter (Kate Winter Evaluation)
View or download the slides (PDF): Winter_MixedMethods_VENSlides_11April2019
8th VEN Event
January 23, 2019 at 4-5.30pm CET
Gender Mainstreaming in Evaluation
by guest speaker Angela Wroblewski (Institute for Advanced Studies)
View or download the slides (PDF): Wroblewski_VENSlides_23Jan2019
7th VEN Event
November 14, 2018, 4-5.30pm CET
Learning from Evaluations?
by guest speaker Astrid Ganterer (Austrian Development Agency)
View or download the moderation cards
6th VEN Event
October 22, 2018, 4-5.30pm CET
Transferring evaluation results for evidence-based decision making in other contexts
by guest speaker Christian Boehler
View or download the slides (PDF): Boehler_VENSlides_22Oct2018
5th VEN Event
September 25, 2018, 4-5.30pm CET
Mainstreaming "Value For Money" in Development and Humanitarian Programming
by guest speaker Darko Petrovic
View or download the slides (PDF): Petrovic_VENSlides_25Sep2018
4th VEN Event
June 13, 2018, 3-4.30pm CET
The Role of Programme Theories in Evaluation
By guest speakers Karin Kohlweg and Lisa Ringhofer
View or download the slides (PDF): Kohlweg_Ringhofer_Slides_13June2018
3rd VEN Event
May 9, 2018, 3-4.30pm CET
Evaluating Advocacy and Communication: Challenges and Solutions
by guest speaker Glenn O'Neil
View or download the slides (PDF): ONeil_Slides_9May2018

2nd VEN Event
April 12, 2018, 3-4.30pm CET
What is "Evaluation"? Discussing the Fundamentals
by guest speaker Alfred Uhl
Inaugural VEN Event
January 16, 2018, 2-3.30pm CET
Evaluating effectiveness of complex interventions: Challenges in using RCTs
by guest speaker Ludwig Grillich